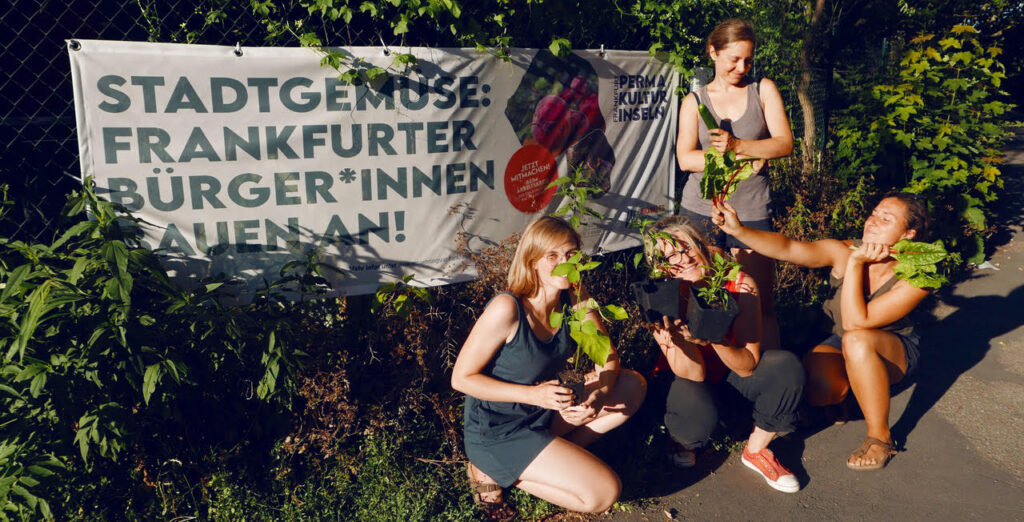 Our goal: Make Frankfurt eatable!
Regional agriculture that avoids long distance shipping, works organically, builds healthy soil, and supplies citizens with fresh, seasonal fruit and vegetables. Isn't that what we all want? More green in the cities, local recreation areas, leisure opportunities, and more social interaction in the neighborhoods. These are all goals set forth by government and public entities. Why not combine all of them? By creating eatable islands in urban green spaces, (which are often unattractive), Frankfurt could be supplied with fresh food and the visual enjoyment of colorful fruits and vegetables. Not only would this create a perfect synthesis but it would also make a valuable contribution to climate protection. We can all take a big step toward food sovereignty by overcoming our dependence on food imports, as well as large corporations, and instead, learn how to provide our own food again.
Eatable Islands as places to live
All over Frankfurt, there are untended spaces, overgrown with ivy, weeds, or simply adorned with useless cherry laurel. They are yearning to be given a meaningful purpose. Wouldn't it be wonderful to be able to pick an apple while strolling through the park or to go on a raspberry hunt with the kids? Or, on the way home from work, quickly stop to harvest lettuce that is fresh and crisp and on the dinner table half an hour later?
Our vision is to create eatable islands everywhere in Frankfurt. A place where the residents of respective neighborhoods can meet, dig in the soil together, and harvest fresh food. Not only would this reduce the shipping distances for food, but the citizens themselves would no longer have to flee the city to relax in nature. Instead, they could spend time on the weekend planting seedlings, sowing carrots, or enjoying a good book in their lounge chair situated in the middle of verdant planting areas. The neighborhood could connect in their local recreation areas right outside their own front door, and work and relax together.
Role models all over the world
What sounds like a utopia is already a reality in numerous cities. In 2007, in Todmorden, England, the "Incredible Eatable" movement was founded and has since spread all over the world. Two committed citizens began to plant vegetables in urban green spaces without asking for permission first. Large numbers of people quickly joined them, and the community soon began to support the movement. Today "vegetable tourism" is flourishing in Todmorden! All over the city people can harvest vegetables and fruit that are tended collectively.
Germany already has some "eatable" cities, for example, Andernach in Rheinland-Pfalz. Unlike in England, here municipal employees took the initiative. Vegetables, cultivated by the long-term unemployed, grow in public parks.
Frankfurt, on the other hand, has a long way to go. Manicured lawns and privacy hedges still dominate the cityscape. We want and will change that!
From the Green Lung to the whole city!
If you don't know Frankfurt's Green Lung yet, you need to go out and experience it as soon as possible. Few cities offer such a unique area! 16 hectares of green space in the middle of the city. Where else can you find that?
Above the Günthersburg Park in the North-End, there are partly overgrown gardens, inhabited by numerous rare animal and plant species. The area is perfect for urban agriculture, with excellent fertile soil built up over centuries! Since the beginning of 2019, the Vegetable Heroes plant fruit and vegetables in twelve of these gardens. The produce is open for anyone to harvest. Since February 2020, our working group, together with the Vegetable Heroes, has been creating the first Permaculture Island in Frankfurt's Green Lung. Splendid fruits and vegetables grew there this year, and we were able to harvest some of them every day! Even in the late fall celery and chard still grace the garden, while all the other crops go dormant for the winter season.
Since September 2020 we have an additional 1 600 m2 large Permaculture Island on the Bornheimer Hang. A team of now more than 20 people is creating an 'eatable forest' there, freeing the blackberry shrubs and goldenrod from years of neglect and overgrowth. They also intend on creating planting beds over the course of the winter. This will provide a lot of vegetables next year!
Working together with students of the Goethe University, we have created an island on the west end campus in early 2021.
Further Permaculture Islands are currently being planned. We envision a Permaculture Island at the Luxemburger Allee in the East-End, which will involve the three surrounding schools.
Since we have a separate, self-sufficient team for each island, our working group does not meet at specific times. If you would like to take part in a Permaculture Island or have an idea for a new island, please contact us. We can discuss how and where you can best contribute to our mission. We look forward to connecting with you!
Kontakt:
Wenn auch du mitmachen möchtest, dann melde dich unter
info@gemueseheldinnen-frankfurt.de